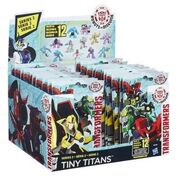 Tiny Titans
is a line of blind-bagged minimally-painted soft-plastic figurines, featuring characters from multiple franchises (mostly 2015
Robots in Disguise
and Generation 1, the former adorning all of the packaging), rendered in a big-headed, kinda-chunky-cute style.
Each figure comes with a trading card with an insignia that can be scanned in the Robots in Disguise mobile game, giving the player a semi-random amount of energon cube "currency" and a random power-up item.
Thankfully, the bags are thin enough to read the names on the cards through when pressed flat, plus there's a tiny clear window in the back to peek at the item inside, making the task of getting the ones you want easier.
Series 1
Edit
Series 2
Edit
Series 3
Edit
Series 4
Edit
Series 5
Edit
Series 6
Edit