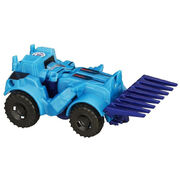 Part of the third wave of Robots in Disguise One-Step Changers,
(and the first Thunderhoof figure to be released), Thunderhoof transforms from robot to tractor in just one easy step! For reasons unknown, his vehicle-mode threshing blades do not form his robot-mode antlers.
His scannable Decepticon insignia is on his robot mode chest or
vehicle mode back. As he's packaged in vehicle mode, this badge is scannable in-package, but is somewhat obscured by the front packaging card.
His current stock photo is mistranformed: His vehicle mode's rake is not folded down.
The TakaraTomy release of the toy, under the "Easy Dynamic
Series" line, features additional paint applications to the body, shoulders, fists, and replacing the blue details on the thighs with gray. Thunderhoof also features a scan-badge, which is compatible with TakaraTomy's Transformers Chronicle checklist app.