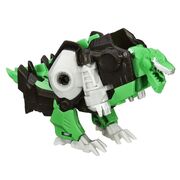 Product Description
Edit
The One-Step Changers are 2-in-1 speed-changers, and your Grimlock figure is one of them! He's the same savage dino as always, but he converts in just 1 step from dino mode to robot mode and back. Can his Decepticon enemies keep up? Not with you in charge!
One-Step Changers Grimlock figure
Figure converts from robot mode to dino mode and back
Converts in 1 step
Pinch to change
Ages 5 and up
© 2014 Hasbro. All Rights Reserved.