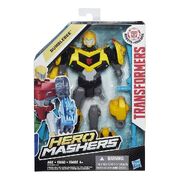 Product Description
Edit
Lend a bot a hand – or a leg! Your Bumblebee figure has all the might of any of the Transformers and a sword to make Decepticons into scraps. But he can become even more powerful with other Hero Mashers parts! All his parts are removable, so you can swap parts from other Hero Mashers figures (sold separately) to give him different powers. Will he win the fight with a Bulkhead arm or a Sideswipe leg? Your Transformers adventures will be a mash-up of awesome with this Bumblebee figure!
Transformers Hero Mashers figures are totally customizable
Head, arms, and legs detach
Includes sword
Mix parts from Bulkhead, Sideswipe or Steeljaw Hero Mashers figures (sold separately).
Ages 4 and up Product does not convert.
© 2014 Hasbro. All Rights Reserved.